Hello Everyone,
It has been FAR too long since we provided an update on DGS Wrestling but that has not been due to inactivity. The DGS Wrestling program has been working hard since about mid-March and we wanted to let everyone know what we have been up to and how you can help current and future DGS Wrestlers.
FR/SO STATE & GIRLS STATE CHAMPIONSHIPS
The Mustangs qualified two wrestlers to the FR/SO State Championships in Springfield, IL and Freshman Jimmy Nugent placed 2nd at 101 lbs and Sophomore dominated the field at 152 lbs winning a FR/SO State Championship. The Mustangs qualified four Girls to the Girls State Championships in Springfield including Freshmen Gabija and Orinta Luksiute, Sophomore Sharon Leone, and Junior Cristal Lopez-Contreras. Each of the girls won matches at the tournament and Gabija placed 4th at 101 lbs.
SPRING, GRECO AND FREESTYLE STATE CHAMPIONSHIPS, & DUAL TEAMS
The Downers Grove Wrestling Club had over 65 kids practicing this spring working on Freestyle & Greco skills in the off-season. The DGWC went 3-2 in the IL Freestyle Club Cup (hosted by DGS) in a premier freestyle dual meet event placing 7th out of a field of 16. The DGWC also fielded a second team due to a last minute cancellation so over 12 current and future Mustangs wrestled in the Club Cup.
The Mustangs placed three wrestlers at the Greco State Championships at Lincoln Way-Central High School. Freshmen Jimmy Nugent placed 2nd at 106 and Sophomore Robert Major placed 2nd at 160, which qualified both of them for Team IL and wrestling at the US Marines National Tournament (Cadet) in July. Junior Brendan Richardson placed 3rd at Greco State and later won the 2nd Chance Tournament to also qualify for Fargo.
Sophomore Robert Major also placed 2nd at the IL Freestyle State Championships, which qualified him for Team IL in Freestyle. Our girls had a remarkable Freestyle State Tournament placing 3rd overall as a club/team (DGWC) and placing four girls. Cristal Lopez-Contreras placed 3rd, while Gabija & Orinta Lukosiute and Sharon Leon each placed 4th, which qualified each of them for the Girls Freestyle National Championships in Fargo in July.
Both Robert Major and Cristal Lopez-Contreras were on Team IL for the Dual Team National Championships this couple of weeks. Robert went 8-2 for Team IL (All-American Dual status) and was a part of a runner-up team finish for IL in both Freestyle & Greco. Cristal also wrestled for Team IL and helped the IL girls win their first Dual Team National Championship!
DEVILS LAKE & WI DELLS TEAM CAMP
The Mustangs brought a team-high 25 kids to Devils Lake (WI) and the WI Dells Team Camp this past week. We kicked off our trip with an overnight camping trip where we hiked and did a 5-mile run (.5 straight up to the peak of Devils Lake). The Mustangs then went to the WI Dells Team Camp and went 10-0 in duals dominating two IL teams that qualified for Team State this past year and also defeating Johnston (IA) and Bettendorf (IA), each of which has won team trophies in IA during the past several years.
FARGO HELP & ASSISTANCE
We are trying to help our (program record) five Mustangs with their Fargo trip. The trip costs $1,000 each which includes their training camp, team IL gear package, travel & accommodations to and from Fargo, ND in July. Here are the two ways you can help, 100% of the proceeds go to the kids Fargo trips. You can help Jimmy Nugent, Robert Major, Brendan Richardson, Sharon Leon, and Cristal Lopez-Contreras here:
Mojos for Fargo- Eat at Mojo's East Coast Eats on Wednesday, June 26th or Thursday, June 27th and mention or show this image and 20% of the proceeds will go to the Fargo trips.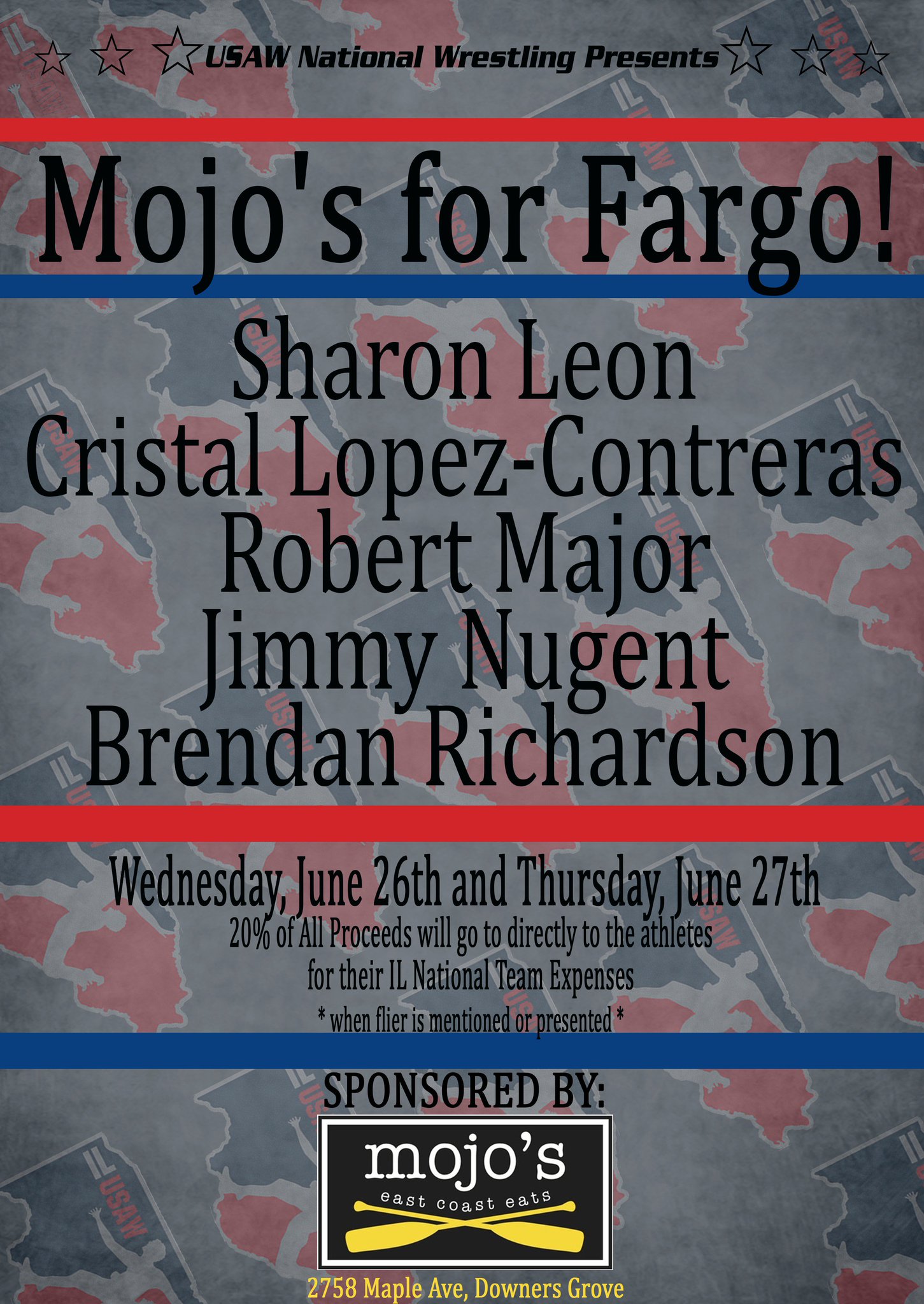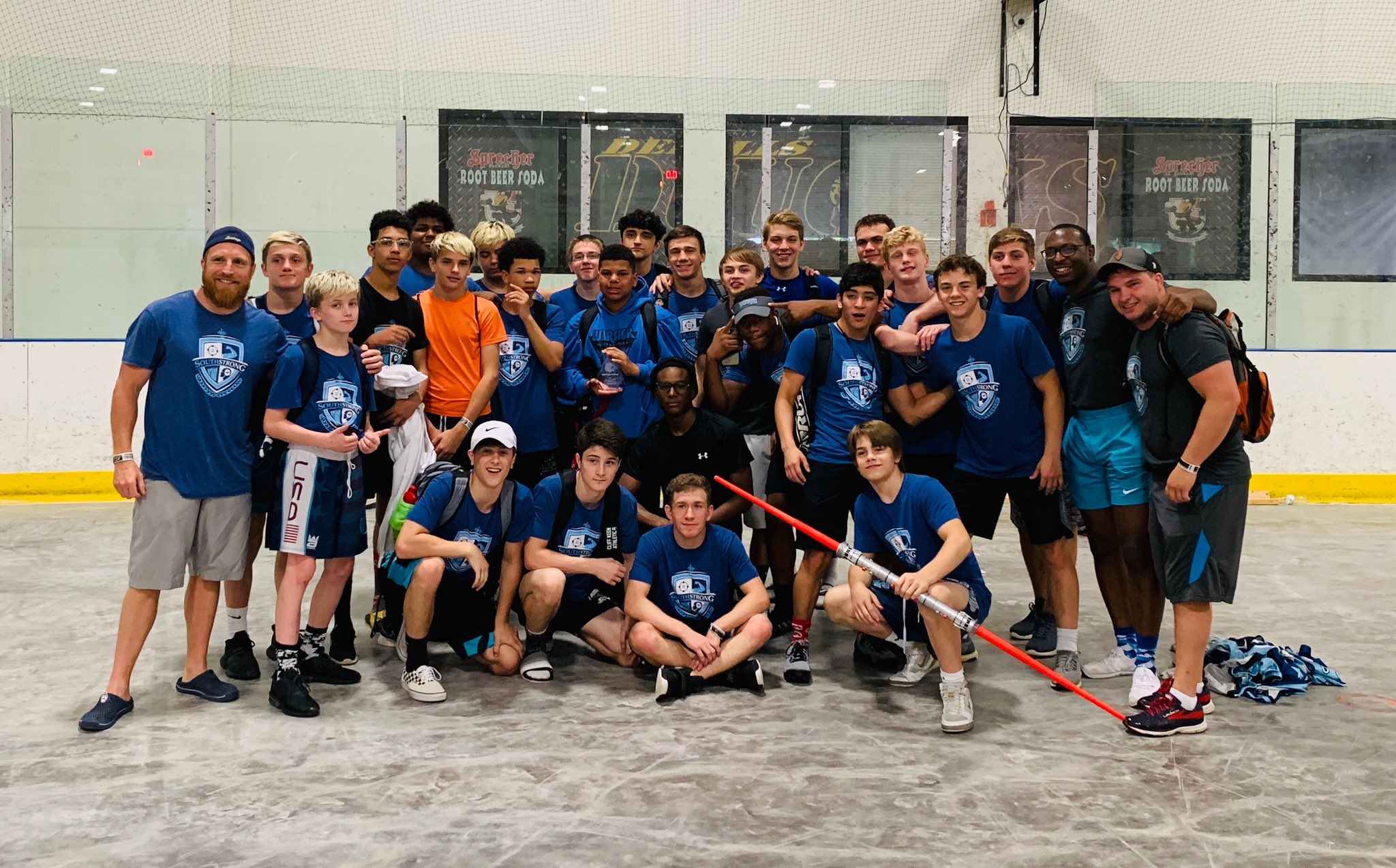 2019 WI Dells Team Camp Champions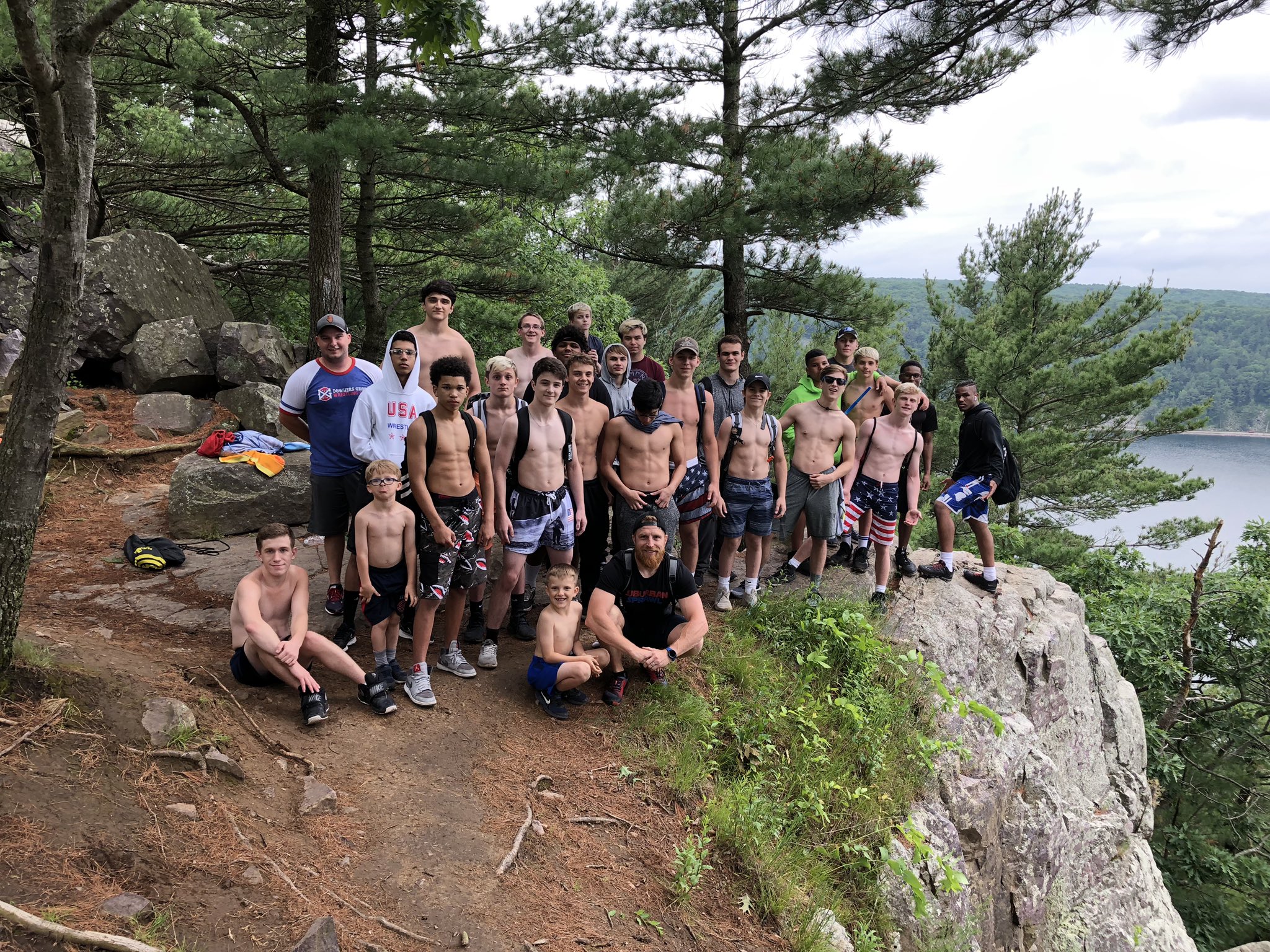 Devils Lake (WI)